In 2023, a new name: Bleu Soleil becomes Les Terrasses de Dordogne!
The oldest campsite in Rouffignac Saint Cernin with 46 years of existence, which after being known under the name of Cantegrel and recognized under the name Bleu Soleil, continues its evolution with a new name: Les Terrasses de Dordogne.
Why change the name?
Bleu Soleil sounded good, evoking holidays and good weather, but there was no local identity.
A few years ago, we decided that the name of our campsite should more clearly indicate where we are located and describe the beautiful views from our campsite.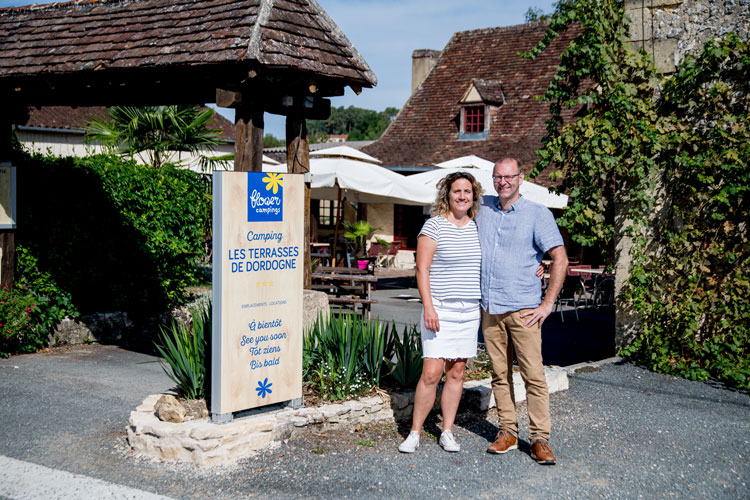 Why Les Terrasses de Dordogne?
Our establishment is situated on one of the highest hills in the Dordogne and is organised in terraces, the perfect marriage of these two words seemed obvious.
And what do you do on a terrace? You can enjoy a cocktail with your family, soak up the sun on a deckchair or admire the landscape. And why not do all three at the same time?
It is these terraces that allow you to have space and to have an atypical campsite. And for those who are worried about the height and the risk of falling, be reassured! Terraces do not mean balconies. We are not in the mountains and the terraces are separated by gentle slopes with trees.
And if you tell your family, friends or work colleagues about your holiday at Les Terrasses de Dordogne, they will know where you were.
Les Terrasses de Dordogne different from Bleu Soleil ?
Of course not!
Although, as mentioned above, the evolution of our establishment continues, our values remain the same: family camping on a human scale, respect for nature and a friendly atmosphere.
This is evidenced by the fact that we will be joining Flower camping at the beginning of 2022, which is in line with our ambition and in every respect with who we are.