Visit Rouffignac
Rouffignac, a pretty village to visit
Staying at the Les Terrasses de Dordogne campsite in the commune of Rouffignac-Saint Cernin de Reilhac is situated on the heights of the Grand Site de France Vallée de la Vézère, the 20th classified Grand Site de France. This vast commune of the Périgord Noir is located on the highest hills of the Dordogne. Densely wooded, here lies the legendary Barade forest where the story of Jacquou le Croquant was written.
Rouffignac is located on the Périgueux-Sarlat axis, in the heart of an exceptional natural environment. It is an ideal base for visiting the most beautiful sites of the Périgord.

Things to do in Rouffignac
You can also visit the Renaissance church of the 16th century, the only vestige of the village rebuilt after the fire of 31 March 1944 during the Second World War. A memorial area recalls the events and explains the particular architecture of the village.
Your family activities in Rouffignac
An ideal playground for nature lovers, a large network of marked footpaths and mountain bike trails run through the commune, linking the main attractions, accommodation and services.
The reputation of the Sunday morning markets and the summer gourmet night markets complements the attractive offer of farm producers, restaurants and local shops.
The wide range of accommodation allows you to stay in a natural and authentic environment in the countryside, close to the prehistoric sites of the Cro-Magnon country, such as Lascaux or Les Eyzies, and the numerous castles of the Dordogne valley. The area also offers many sporting, cultural and outdoor activities.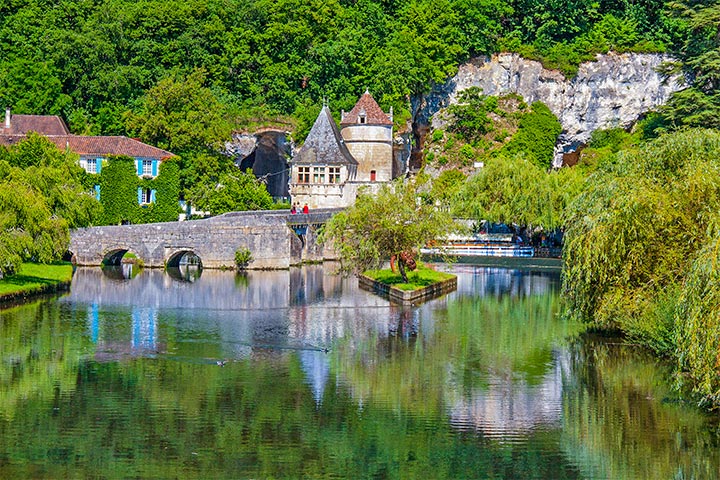 Looking for a green holiday in wide open spaces? In Rouffignac-Saint Cernin, take advantage of a gentle interlude between discovering the environment and the land, for a holiday in harmony with nature.
Since the end of 2021, the commune has been awarded the "Station Verte" label, rewarding the various actions of preservation and enhancement of the heritage and eco-tourism. To learn more about this label, you can visit the website of Station Verte by clicking here
Discover the castles, the Perigord and the surroundings of our campsite